Key points:
Flares were let off and tossed on the pitch during West Ham's Europa League tie at Genk which finished 2-2.
West Ham has acknowledged a Uefa authorisation restricting their fans from venturing out to the Europa League game at Rapid Vienna.
The Hammers were accused of group aggravations and for their fans tossing things in their draw with Genk.
In an assertion, West Ham said they "hesitantly" acknowledged authorizes however "additionally wish to put on record our failure at the very a spur of the moment announcement of the actions."
The game against Rapid Vienna happens on Thursday 25 November.
The Premier League club, which was additionally fined an aggregate of 34,500 euros (£30,000), said that they were attempting to recognize the fans answerable for the unsettling influence.
"West Ham United denounce the conduct of this gathering of people," the assertion added.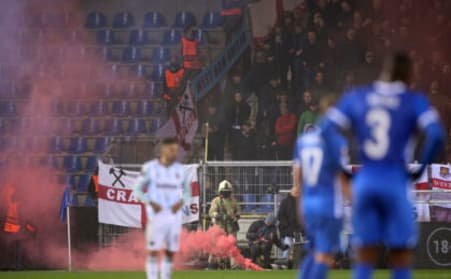 "We are attempting to distinguish them following their activities, which have now eventually prompted our allies – by far most of whom acted faultlessly in Belgium – being rebuffed and bringing about David Moyes' group being compelled to play in Austria without the support of the club's fans."
The Hammers moreover "emphatically" asked their fans not to go to Vienna for the tie.
"Fans won't be conceded admittance to the Allianz Stadion and any endeavour to enter the arena could prompt further endorses for the people and the club later on," they added.
West Ham is top of Group H with 10 focuses after four games.